Popular searches
Average rent
Renters guide
Demographics
Average rent in Cincinnati, OH
$1,300/mo
Cincinnati, OH average rental price,

July 2023
The average monthly rent of apartments in Cincinnati, OH is $1,300.
Cincinnati, OH apartment rent ranges
About 40% of apartment rents in Cincinnati, OH range between $1,001-$1,500. Meanwhile, apartments priced over $1,501-$2,000 represent 18% of apartments. Around 30% of Cincinnati's apartments are in the $701-$1,000 price range. 4% of apartments are priced between $501-$700.
Cincinnati, OH rent trends
Compared to the national average rent of $1,726, the average rent in Cincinnati, OH is $1,300.
Frequently asked questions
When were prices and availability in Cincinnati, OH last updated?
Prices and availability in Cincinnati, OH were last updated on 30 Sep 2023.
What is the average rent in Cincinnati, OH?
The average rent in Cincinnati, OH is $1,300. Start your search for apartments in Cincinnati, OH now.
What is the price range for a studio apartment in Cincinnati, OH?
The price range for a studio apartment in Cincinnati, OH is between $695 and $3,416. View all studio apartments in Cincinnati, OH.
What is the price range for a 1-bedroom apartment in Cincinnati, OH?
The price range for a 1-bedroom apartment in Cincinnati, OH is between $470 and $3,200. Browse all available 1-bedroom apartments in Cincinnati, OH now.
What is the price range for a 2-bedroom apartment in Cincinnati, OH?
The price range for a 2-bedroom apartment in Cincinnati, OH is between $631 and $9,999. Browse and find a 2-bedroom apartment in Cincinnati, OH.
What is the price range for a 3-bedroom apartment in Cincinnati, OH?
The price range for a 3-bedroom apartment in Cincinnati, OH is between $724 and $4,605. Browse all available 3-bedroom apartments in Cincinnati, OH.
What type of rental buildings are in Cincinnati, OH?
In Cincinnati 61% of the housing is rented out compared to 39% of homes are owned, according to the most recent Census Bureau estimates. 15% of Cincinnati's apartments are found in large buildings of 50 units or more, 69% are located in smaller apartment complexes with less than 50 units, and 15% are single-family rentals.
What do typical apartment communities look like in Cincinnati, OH?
The age and size of multifamily buildings are among the most visible characteristics of the rental market in a city.  In this case, the apartment buildings in Cincinnati are about 43 years old, on average. Of these, 19% have been built since 2000, representing the newer options on the market and typically offering more amenities. Rental buildings in the city have an average height of 4 stories. About 81% of the rental communities here are low-rise, garden-style communities, 17% are mid-rises, and 8% are high-rise buildings. These are true especially for large-scale multifamily buildings with over 50 apartments.
What apartment floorplans are common in Cincinnati, OH?
Rental apartments in Cincinnati come in a range of sizes and floorplans. Studio apartments represent 3% of units for rent, ideal for singles, renters on a budget and people who value central locations more than space. Rentals with 1-bedroom floorplans make up 42% of the total apartments in the city, while 2-bedroom floorplans represent around 45% of all rentals in Cincinnati. The rest are larger floorplans with 3 bedrooms or more, typically preferred by families, larger households or roommates sharing space.
Cincinnati, OH in the news
June Rental Activity Report: Kansas City Is Most In-Demand City, With Suburb Overland Park Coming in 2nd
Another Midwestern city buzzing with rental activity is Cincinnati, which held on to the fourth spot that it also occupied last month. In June, there were 4% fewer listings available in the city compared to one year ago, as rentals filled up fast. Traffic on listings pages in the city rose by 27% in that same timeframe, reflecting renters' increased interest in the area. Apartment hunters favorited a triple number of apartments this month versus last June. This shows that they took their rental search journey beyond the prospecting stages, displaying a clear intent to rent in Cincy.
May Rental Activity Report: Kansas City Leads as Most In-Demand City, Midwest Claims Top Spots
Cincinnati climbed eight spots and landed at #4 this month. The city gained four points in its overall score since last month, reflecting a significant increase in rental activity. The number of apartment listings available in Cincinnati was almost the same as one year ago, but listing views rose by 25%. Additionally, although renters saved 16% more personalized searches for Cincy rentals year-over-year, the number of favorited apartments jumped four times compared to last May. This means that renters are showing increased interest in Cincinnati apartments, as well as a more evident determination to sign a lease.
The Oldest Apartment Buildings in the United States - That Still Rent Today!
The oldest apartment building on our list is the quaint Pendleton in Cincinnati, OH. Dating back to before the Civil War, the red brick structure is alive with residents inhabiting its 78 rental units. And it's not just the 171-year-old Pendleton that still has some life left in it! Some of today's apartment communities witnessed the glitz and innovation of the Gilded Age, while others rode out two World Wars.
Living in Cincinnati, OH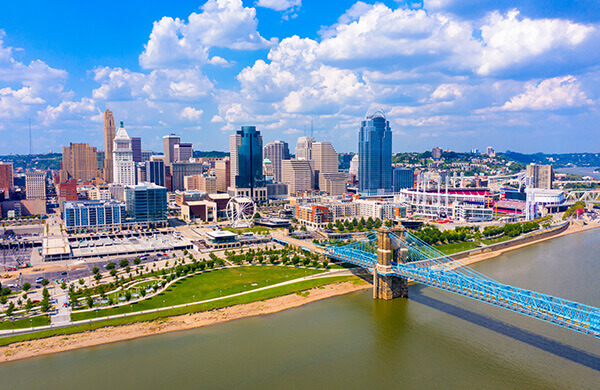 Cincinnati is a Midwestern city known for its rich history and culture. Specifically, it's located in southern Ohio along the Kentucky border, and the downtown area is situated along the Ohio River. Notably, the city boomed in the mid-19th century as a center for steamboat shipping. During this time, many European immigrants moved to the area, including a very large number of German immigrants. In fact, German culture is still prominent in Cincinnati today, and many local renters are of German descent. To that end, the Over-The-Rhine district is a historic German neighborhood that has become a popular dining and entertainment destination. Cincinnati renters also enjoy a variety of unique local foods, with chili being the most notable. Here, watching sports is a popular pastime among local renters as the city has both NFL and MLB teams. Or, renters who are feeling artsy can check out the city's thriving performing arts scene: The city has several theater companies, as well as an opera and a ballet company.
Renting in Cincinnati, OH
Rent in Cincinnati is much more affordable than many similarly sized cities in the United States, thereby offering renters more bang for their buck in terms of apartments. There are also many unique historic apartments in Cincinnati, some of which date back to the 19th century. Although some neighborhoods are hilly, renters will find that Cincinnati is generally very walkable and easy to navigate on foot. There are also many high-rise and mid-rise apartment buildings, even in the residential neighborhoods outside of downtown. However, there are some neighborhoods with single-family homes for rent, as well. Additionally, the University of Cincinnati is located in the middle of the city, and many apartments nearby cater to student renters.
Shopping in Cincinnati, OH
Cincinnati renters have a variety of local and independent shops to explore, particularly in the downtown area. Namely, the Over-the-Rhine neighborhood is a top shopping destination in the region with unique and stylish boutiques carrying clothing and home goods. While there isn't a traditional indoor mall within Cincinnati city limits, renters can head to the Kenwood Towne Center, which is located in the city's northwest suburbs. Renters also have many grocery options to choose from: Kroger is the largest grocery chain in the area, but many neighborhoods also have local grocers and markets to shop at. Otherwise, Findlay Market is a historic farmers' market located in Over-the-Rhine that's popular among both local renters and visitors.
Transportation in Cincinnati, OH
Driving is one of the most efficient ways for renters to get around Cincinnati as I-71 and I-75 run directly through the city. However, if you rent an apartment downtown, you'll want to check to make sure your apartment offers parking. Alternatively, Cincinnati also has a very reliable public transportation system for a city of its size, making it a good alternative for renters who don't drive. For instance, Metro buses run in the city and to nearby suburbs, and the Connector streetcar line runs from downtown to Over-the-Rhine. Finally, there are also good regional transportation options in Cincinnati: The Amtrak Cardinal provides service to both Chicago and New York City, and the Cincinnati/Northern Kentucky Airport is just a 20-minute drive away.
Look for apartments near me
Are you looking to land that one apartment near you that ticks all the boxes? Now you can browse through available RentCafe apartment listings in your area, rated and reviewed by verified residents. Comparing the size, price, amenities and location of apartments for rent near you is easier than ever. Do you feel like expanding the search beyond your neighborhood and ZIP code? Browse apartments for rent in your city and state to find the best fit, wherever you are in the U.S. Somewhere out there is the perfect apartment just waiting for you.
Whether you're looking for a studio, an apartment with one or more bedrooms, or maybe you're upgrading to a luxury apartment or need to acommodate a pet, RentCafe allows you to easily search for a rental near you based on your criteria, anywhere in the U.S. So, let's find your new home today!
RentCafe is your one-stop shop for finding a great new apartment in Cincinnati, OH. Easily search through a wide selection of apartments for rent in Cincinnati, OH, and view detailed information about available rentals including floor plans, pricing, photos, amenities, interactive maps, and thorough property descriptions. Property owners and managers are one click away, so feel free to contact them and find out all you need to know about the apartment you're interested in. Browse Cincinnati, OH apartments with rents starting from $124 and submit your rental application today!
Finding a home nearby is easier than you think. Check out our Apartments Near Me page and take your pick!